Poker Laws in Alabama
A Guide to Poker Legislation in the State Of Alabama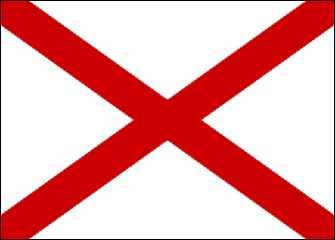 Alabama has very strict laws banning most forms of gambling. In stark contrast to neighboring Mississippi, there are no poker games running in the few casinos, and players can even find themselves prosecuted for participating in illegal games.
In this guide to Alabama poker you first find a brief history of how Alabama's gambling laws developed. Then the specific question of poker's legality within the state is answered. After that you can discover the options players have within the State for live poker along with the current situation and future predictions for online games.
Alabama's Gambling History
In the aftermath of the Civil War, Alabama began to legalize forms of gambling, including lotteries, to raise revenue. These proved uncompetitive and ended in 1901 when the state constitution was introduced, heavily influenced by the religious beliefs of Alabama's leaders. Gambling was among the many activities which became criminalized. 
Attempts were made to regulate gambling in the 1930s in Phoenix City. The city had become bankrupt and was badly in need of funds. The relaxation in laws attracted high levels of organized crime and following the assassination of the attorney general in 1954, the state ban was reintroduced.
The first state wide alteration came in 1971 when betting at dog and horse tracks was permitted, followed by charitable bingo in 1980. When the 1988 Indian Gaming Regulatory Act allowed the Poarch Band of Creek Indian tribe to open casinos on their territory, they were permitted only to provide slots and bingo games.
Is Poker Legal In Alabama?
Alabama law has defined poker as gambling. The key legislation covering this still dates back to the 1901 Alabama Statutes.  Section 13A-12-20(4) states:
"A person engages in gambling if he stakes or risks something of value upon the outcome of a contest of chance or a future contingent event not under his control or influence, upon an agreement or understanding that he or someone else will receive something of value in the event of a certain outcome."
Whether you agree poker is a skill game or not, there is no avoiding the fact that luck plays a key role. Alabama courts have rejected attempts to alter the classification of poker to a game of skill.
Options in Alabama for Playing Live Poker 
Poker home games remain legal providing no profit is made in the form of rake or fees, and the game is between 'friends'. This vague classification of participants means the decision falls upon the judges as to whether a game is lawful or not. As a result news of games is spread by word of mouth, rather than openly advertised.
"Promoting gambling" by operating an illegal game is a class-A misdemeanor, according to Section 13A-12-22 and even just playing poker in "an unregulated environment" can result in a minimum class C misdemeanor.
There are harsher penalties for those caught playing on a Sunday, due to the religious origins of the law, and contracts founded on gambling are unenforced.
The State does permit some organized poker events. Free to enter bar leagues have proved popular, and provide prizes. The state has been known to provide licenses for individual charity tournaments.
Playing Online Poker in Alabama
As Alabama have not updated their laws to address online poker and gambling, the assumption is existing laws cover these. This has led to a grey area where Alabama players are participating in poker games via offshore sites, whose games are ran from different countries where poker is legal.
The good news is that no-one has ever been charged with playing poker online for money within Alabama and there does not seem to be any enthusiasm to push for arrests from the State government.
In 2014 Alabama's Governor Bentley, acting as the chair for the Economic Development and Commerce Committee, did attach his signature to a letter voicing governors' objections to a proposed federal ban on online gambling. Rather than taking a pro-gambling stance however, this was to ensure individual states remained in control of their own gambling affairs. Governor Bentley has already stated he does not approve of gambling due to his religious convictions.
Given the State's history and anti-gambling stance of its politicians, it is unlikely there will be any moves towards regulating online poker in Alabama.
In Summary – Alabama Poker
Poker players in Alabama are faced with tough state laws. While there are always options to play live poker across the state border In Mississippi, to play within Alabama you are limited to home games and bar leagues.
Regarding online poker, the view is the Statutes cover the poker sites providing games in Alabama. This has never been tested within a court and there is apparently no willingness to begin enforcing these laws on poker players within the State. While players appear free to enjoy online poker games, Alabama shows no signs of moving towards regulation.