Nevada Legal Poker Laws
A Guide to Poker in the State of Nevada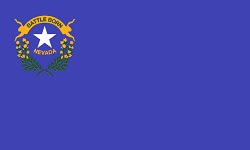 First of all below you will find a brief summary of the gambling history of Las Vegas and Nevada. After that you can find details of the laws relating to poker - before a summary of the many options for live games. Finally online poker is covered with the recent legislation covering the games and the interstate pact with Delaware.
A Brief History of Gambling in Nevada
Prior to the 1930s Las Vegas was a small sedate town. 1931 saw legalization of gambling which allowed for the creation of Las Vegas' famous casino hotels. Shortly afterwards the completion of the Hoover dam, followed by the Manhattan Project was credited with a large increase of both population and visitors to the area, resulting is rapid growth.
Nevada and Las Vegas faced organized crime's involvement in the casinos during the years after WWII. While there were steps taken to curb the mob's control they were also responsible for investing a lot of money into their establishments and inviting major acts to perform, creating the image of Vegas as an entertainment hub.
In the 1980s this started to fade away as the big casino corporations began to move in and redesigned Las Vegas into the modern city it is today. With legitimate names behind the casinos the games flourished, and despite growing competition from other States, Las Vegas still remains a Mecca for poker players.
Is Poker Legal in Nevada?
Nevada's definition of gambling, in Chapter 463 Part 01-52 of the Statute, reads:
"…any game played with cards, dice, equipment or any mechanical, electromechanical or electronic device or machine for money, property, checks, credit or any representative of value"
With no mention of whether a game needs to be classed as a skill game or chance game, it is fairly conclusive that poker is covered by this definition. As such poker is only permitted in regulated environments, however in Nevada you are somewhat spoilt for choice.
Meanwhile if you do get caught in an illegal game there are no penalties for players, although organizers can face jail time even for first offenses.
Live Poker Options for Nevada Players
Throughout Las Vegas you can find all the big industry names, such as Bellagio and Caesars, all providing excellent facilities and a world class games choice of games. Along with daily low stakes tournaments you can find regular major events, although none are bigger than the World Series of Poker which is held at the Rio Casino every year. Outside of Las Vegas you can find smaller regional casinos, catering for locals and travelers passing through. 
Home games are perfectly legal in this State providing no organizers charge a rake or fee. The law is designed to allow friendly small games, so higher stake games which would take business away from the card rooms is likely to gain more attention. Charity tournaments run frequently, despite needing individual licenses for each event - and you can find free to enter bar leagues if you enjoy the game as entertainment.
Nevada's Regulated Online Poker Market
Nevada was one of the first States to regulate online poker in 2013. Unlike other States which have legalized many online forms of gambling, Nevada has only permitted poker.  Games are now legal on licensed sites which have connections with bricks and mortar operations.
Apart from occasions such as the WSOP when many players visit Nevada, the relatively low population of 1.5 million means that online poker traffic can be low throughout most of the year. In order to overcome this, and get a head start on inter-State markets, there has been an agreement to share games with Delaware. It is hoped that as more States pass legislation, they will join together with Nevada and Delaware, creating a larger choice of games and bigger tournaments.
In addition to the licensed names, some offshore sites still continue to serve residents of Nevada, although many pulled out or have refused to accept new players after regulated poker became a reality.
In Summary – Nevada Poker
Nevada has always been the number one choice for poker players and gamblers in the US, if not the world. This State has remained forward thinking with gambling laws and has reaped massive financial rewards from it.
Now that online poker is legal in Nevada the next stage seems to be the linking up of player pools as and when other States are regulated, in order to create bigger and better games for US citizens.