Legal New Jersey Online Poker
A Guide to Poker in the State of New Jersey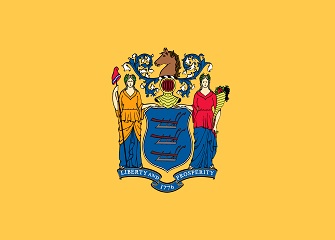 In this guide to poker in New Jersey you can first find quick summary of how gambling has developed here. Next the laws surrounding poker are covered - before providing you with an overview of live poker opportunities. Finally you can find out about the regulated online poker New Jersey offers.
A Brief Overview of Gambling in New Jersey
At the start of the 1900s New Jersey had imposed a blanket ban across all gambling. Despite this the betting at racetracks and casinos continued although as law enforcement increased their presence, the gambling operations were taken over by organized crime.
Over the century gambling laws were relaxed. First allowing pari-mutuel betting on horse races then charity gaming. Finally in 1976 the first casinos were approved in Atlantic City, bringing poker to the area and creating the beginnings of the premier East Coast gambling destination known today.
In recent years revenues declined with more competition from surrounding States and offshore internet sites. Realizing this and understanding residents were going to play online whether it was legal or not, in 2013 New Jersey approved regulation of online gambling including poker and casino games.
Is Poker Legal in New Jersey
The definition of gambling in New Jersey centers on the action of making a bet, which includes any form of poker which is played for real money. This is also confirmed later with references to chance and skill in Section 2-40.1:
"…any contest, game, pool, gaming scheme or gaming device in which the outcome depends in a material degree upon an element of chance, notwithstanding that skill of the contestants…"
While this classification exists games continue to run legally in the State through legal carve-outs and regulation since the creation of the New Jersey Casino Control Commission in 1977, although most of these are only in Atlantic City. Players found guilty of illegally gambling outside of the regulated casinos suffer no penalty and gambling related arrests remain rare.
Where to Play Live Poker in New Jersey
While Atlantic City is the only place which permits card rooms, once you get there you are spoilt for choice. The casinos there are some of the biggest names in the industry, including the Trump Taj Mahal, Harrah's and the Borgata. All of these provide round the clock cash game action, with stakes for every player along with a selection of affordable tournaments for their many visitors. The casinos also frequently host major poker tournaments, including WPT and WSOP circuit events.
Social poker games are permitted and enjoyed by many in New Jersey. Home games are legal providing nobody profits from running the games and free to enter bar leagues have proved popular among those who enjoy the sporting aspect of poker. You can also find charity poker nights and tournaments which are have proven to be good fund raisers.
New Jersey's Regulated Online Poker
New Jersey was the third state behind Nevada and Delaware to regulate online poker, although it was the first State with a large enough population to have a real shot at creating a decent poker economy. This has attracted the likes of Party Poker and WSOP.com who have invested large amounts of money into marketing their online brands in New Jersey. There still remain tight controls with online operators having to meet with strict licensing requirements such as commercial ties with brick and mortar casinos.
Since the market went live in 2013 it has not yet reached the levels expected. There is hope that as initial launch issues, such as blocking players located close to the State borders become a thing of the past, momentum will increase once more. With a shared liquidity pact already agreed between Nevada and Delaware, it is hoped that New Jersey may find partners in the future to grow their player base.
When talk of regulation arose in New Jersey several offshore operators have ceased taking on new players from the State, while others have pulled their games out completely. If you already have an account on one of these sites, or can find an operator willing to take new players, it is still possible to play there and you may find bigger games than offered on the regulated sites.
In Summary – New Jersey Poker
While New Jersey could have easily come out and banned all gambling, this State instead opted to control in and have reaped the benefits since. New Jersey is home to one of the main poker destinations in the world with Atlantic City and there is generally a liberal view towards all gambling.
New Jersey has continued to stay ahead of the other states in the 21st century by being among the first to legalize online gambling. While this industry is still in its infancy, with many big names getting involved in New Jersey a bright future is expected.