Louisiana Poker Laws
A Guide to Poker in the State of Louisiana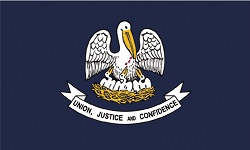 Louisiana has a long and colorful history with poker and gambling. While this was kept underground for most of the 20th century, in the 1990s legal changes gave poker players across the State a wide range of choices.
In this guide to poker in Louisiana you will first find a brief history of gambling in the State, before poker's legal status is covered. Then you can discover the options for where to play live in Louisiana along with how online poker is regarded.
A Brief History of Gambling in Louisiana
Louisiana has a long history with gambling dating back to the first settlers. Poker first gained notoriety during the 1800s with the grand Mississippi steamboat casinos, attracting famous gamblers from across the country.
The 20th century saw a ban on most forms of gambling until 1991 when permission for 15 riverboat casinos was granted. These quickly became popular venues and realizing the potential in income for the State, the licenses were given to land based casinos soon after. This was followed later by permission for Louisiana's Native Americans to build casinos on their tribal land.
The result has been a massive growth in legal gambling business, creating what has been called "Little Vegas South".
Is Poker Legal in Louisiana?
Poker can be classed as gambling under Chapter 14 of the State Code part 90.1:
"Gambling is the intentional conducting, or directly assisting in the conducting, as a business, of any game, contest, lottery, or contrivance whereby a person risks the loss of anything of value in order to realize a profit"
The wording of this is broad enough to cover any game regardless of the skill or luck involved so would cover either classification of a game of poker. While this classification remains it should not matter to most players as there are many casinos and card rooms where the games are regulated and legal.
Unfortunately the same cannot be said for online poker as Louisiana is one of the few States, along with Washington, Utah and Florida, which have specifically outlawed internet gambling.
Louisiana's Options for Live Poker Players
Louisiana is a hot spot for live poker. The many riverboat and land based casinos home a number of superb card rooms providing cash games for players of all stakes and a schedule of daily tournaments. As well as residents from Louisiana these card rooms attract visitors from neighboring States, especially Texas, and the larger casinos, such as the Horseshoe Bossier City have hosted major tournaments like the WSOP circuit events.
For those who enjoy home games the law is greyer. Unlike other States Louisiana does not have specific legislation addressing social games. This means that home games are technically illegal gambling. Thankfully this is not strictly enforced and the law is only applied to the larger illegal games which operate as businesses. So providing no one is profiting from running the game and it is kept low key with small stakes, you should be fine.
The Status of Online Poker in Louisiana
Louisiana has taken steps to make all forms of internet gambling illegal. This includes online poker and could mean receiving a $500 fine and up to a year in jail if caught. Some have argued against this law, saying it only applies to gambling as a business and with technological developments the fact it solely refers to gambling on a computer could be a point of debate. As no one has yet be charged with this offense these arguments against the general perception of the law are yet to be heard.
It may seem strange that a State which has such a name for its casinos would object to online poker in such harsh ways. Those against it argue the unregulated nature of online gambling could quickly get out of control, while some may speculate their objections are due to the influence the existing bricks and mortar establishments have.
Currently a commission is examining the possibility of State regulated poker and is due to report back before the end of 2014. Meanwhile players in Louisiana still have access to the offshore poker sites which serve US customers. While you are taking your own chances playing on these, they are legitimate businesses in their own countries which argue their right to serve US customer through international trade treaties.
In Summary – Louisiana Poker
Louisiana provides a great choice for live poker players who have a large number of venues and games to choose from with buy-ins for all bankrolls. The opposite is unfortunately true for online poker, as play is outlawed in the State.
The future of regulated poker within Louisiana is still uncertain, although should the current commission see success in the current regulated States, legalized state poker could be a possibility. Until then players who choose to play online are taking the risk upon themselves by using offshore sites.