Legal Indiana Poker Laws
A Guide to Poker in the State of Indiana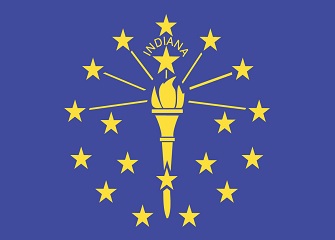 This guide intends to inform you of the laws regarding playing poker within Indiana. First you can find a brief history of the recent changes which have permitted legal poker. Then the options you have to play live and online are covered, with thoughts on the future of online poker in Indiana.
Indiana's Move into Regulated Gambling
Indiana has enforced a ban on gambling ever since its constitution was first drafted in 1851 and included a ban on lotteries. A State lottery, with profits going to good causes, finally launched over a hundred years later in 1988.
This started a relaxation towards gambling in Indiana, and despite the first bills to legalize casinos being rejected, the 1990s started to see regulated riverboat casinos and racetracks appear. This continued to progress after the century turned with more casinos and games appearing.
The growth of gambling in Indiana coincided with the rise of internet gambling. The State addressed this in 2006 by changing their gambling legislation to include wording that could be used against online games and their operators.
Is Poker Legal in Indiana?
Section 35-45-5-1(d) defines gambling as a "… risking money or other property for gain, contingent in whole or in part upon lot, chance, or the operation of a gambling device". As gambling only requires a degree of chance, poker is covered.
Indiana permits regulated gambling including poker at their riverboat and land based casinos. If you choose to play in an unlicensed environment, you are taking part in an illegal gambling activity and can be held personally accountable by the law. Normally this would be a Class B misdemeanor, with stiffer penalties for those running the operation.   
What Live Poker does Indiana have?
Poker is available within the legal casinos found across Indiana. You can find a few land based casinos and several casino riverboats. These riverboat casinos offer excellent facilities and the like of the Majestic Star and Hollywood Casino has played host to Heartlands Poker Tour and WPT events.
The casinos in Indiana host a wide range of cash games and daily tournaments, attracting players from across the State in addition to neighboring States such as Illinois.
You are free to enjoy home games in Indiana as long as no one makes a profit other than those gained while playing. This means no charge or rake can be applied and the host cannot profit by making additional sales such as food and drink.
Online Poker in Indiana
Indiana law is broad enough to cover online poker by the inclusion of the use of a "gambling device", there are also laws directly opposing the running of an online poker room, casino or sports book within the State. Section 35-45-5-3, specifically makes this a felony. Assuming you just want to play and not operate a business, the penalties would start at the same class B misdemeanor you would receive for taking part in any other illegal gambling activity.
With legislation in place recognizing online poker, along with Indiana's desire to regulate all gambling within the State - there is a reasonable chance something may happen despite conservative opposition. At present the subject has not been approached.
Regardless of this current rules there are still offshore sites serving many players within Indiana. These sites, which are mostly based on Caribbean Islands such as Antigua and Netherlands Antilles, operate perfectly legally in their home countries and argue they are allowed to provide games to US players because of free-trade treaties.
While no one has specifically been arrested for playing online poker, there is a history in Indiana of actively charging players with illegal gambling. It may seem logistically impossible to track all residents potentially able to play as this would mean monitoring every computer and smartphone user in the State.
In Summary – Indiana Poker
Poker in Indiana is caught up with the State's contradictory views on gambling. On the one side there are the conservative voices who wish to see a ban on gambling and take a harsh line against illegal gambling. Meanwhile the State realizes the tax income regulated gambling can generate. As a result players will the legal poker environment is very good in the state while illegal games are dealt with far more harshly than other states.
While no law directly addresses playing online poker within Indiana, most agree the area is 'grey' to say the least.  There are offshore sites that allow players in the State to participate and no one has been charged with playing online poker, although it would be a stretch to class it as legal.
There are no current plans to regulate online poker in Indiana.