Legal Montana Poker Laws
A Guide to Poker in the State of Montana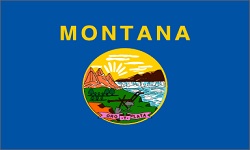 In this guide to poker in Montana you can first find a brief history of gambling in the state. Next up you can see whether or not poker is legal here and what opportunities are offered to live players. To wrap up there is an overview of online poker in Montana.
A Brief History of Gambling In Montana
Gambling first appeared in Montana along with the early settlers then grew massively in the 1800s with many lottery games running. At the turn of the century there was a growing religious and moral sense in the country, resulting in many states including Montana shutting down all gambling with very wide ranging legislation.
After the initial ban Montana started to show a common sense approach towards gambling, beginning in the wake of the Great Depression when the 'Hickey Act' was passed. This put gambling licensing decisions in the hands of individual counties resulting in small casinos popping up to add much needed funds to the State's coffers. Later in the 1940s when slot machines started to become widespread instead of clamping down Montana regulated and taxed them.
As the 2000s heralded the rise of internet gambling, and many suspected that Montana's established gambling industry and progressive nature would embrace the new technology. Unfortunately this was not the case and in 2005 legislation was passed making online gambling and poker illegal.
Is Poker Legal in Montana?
Poker is classed as gambling in Montana as it contains an element of chance. Montana law Section 23-5-112 (13)(a) states:
" "Gambling" or "gambling activity" means risking any money, credit, deposit, check, property, or other thing of value for a gain that is contingent in whole or in part upon lot, chance, or the operation of a gambling device or gambling enterprise."
This means the poker can only be played legally in licensed environments.
The classification poker as gambling also applies to the rule that no internet gambling can take part in the State under Section 23-5-112(19) which outlaws "the use of communications technology that allows a person using money, paper checks, electronic checks, electronic transfers of money, credit cards, debit cards, or any other instrumentality to transmit to a computer information to assist in the placing of a bet or wager…"
Options for Live Poker in Montana
While there are no card rooms in Montana big enough to host a national event like the WPT, you can find many rooms providing low stakes cash games and small tournaments. While these are widespread and cater well for local regulars who enjoy playing, Montana players do miss out top quality competition and facilities found in other states.
Montana does permit home games with the usual condition that the organizers do not profit from rake or fees. Another clause in the law addressing social gaming specifies "small stakes only", although what exactly defines "small" is unclear. In most cases regular home games played between friends for entertainment should have no problems with the law.
A final option for live players is charity fund-raising poker tournaments.
The Status of Online Poker in Montana
The 2005 amendment was the one of first laws in the US making it illegal to gamble online, amid fears it would become highly addictive and get out of control. The law applies to online poker and while no-one has ever been arrested for playing online the consensus is it is clearly restricted.
Offshore sites are still available offering their services to players across the US including Montana and this combined with the lack of enforcement means there continues to be a market for online players to compete in.
Now that other States have developed their own regulated markets, and given that Montana is generally pro-gambling, it is hoped that they may at some point start providing legal poker. There is still much discussion needed in this area, not least because with just over 1 million residents, Montana will likely to need to combine player pools with other States in order to support successful games.
In Summary – Montana Poker
By allowing counties to authorize their own casinos Montana now has more card rooms per head than any other State in the US. There is a severe lack of major poker action and while you can enjoy never being too far away from a game, these unfortunately tend to be on the small side.
There is a blanket ban on online gambling, including poker within Montana. No change seems likely in the short term and players have to make do with offshore sites, although it is hoped that when regulation becomes more widespread Montana will follow.