Michigan Poker Laws
A Guide to Poker in the State of Michigan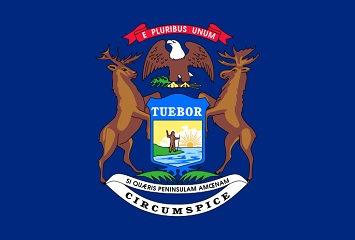 In this guide to poker in Michigan first up you can find a quick rundown of the recent changes in the State's attitude towards gambling. Then the question of whether poker is legal is addressed. Next the options for live poker players are covered, before wrapping up with a summary of how Michigan handles online poker.
A Brief Overview of Recent Gambling History in Michigan
Michigan has been subject to a regulatory boom in its gambling markets in recent years. There had only previously been horse racing and charity gambling until the Native tribes were permitted to open high stakes bingo halls on their lands in the 1980s. It was not until 1996 when land based casinos were approved that things really took off.
This move came about as the State observed the popularity of the casinos in Winsor, Canada and how many of they own residents were frequently journeying over the border to gamble. When three large casinos opened in Detroit the twelve Tribes within the State demanded the right to spread more games. After legally challenging Michigan objections they received approval from the US Supreme Court to do so, which resulted in 19 tribal casinos being created.
Is Poker Legal in Michigan?
Poker is defined as gambling according to Michigan law, meaning partaking in it outside of regulated games is considered illegal. Thankfully there are many places to play live games legally.
Michigan defines a gambling activity as making money from gambling and the use of gambling devices. The fact that poker is played with cards, which is a named gambling device, categorizes poker before any argument as to whether it is a skill game or chance game is needed.
Section 740-314 of Michigan law covers poker and any casino table game:
"Any person who by playing at cards, dice, or any other game, or by betting or putting up money on cards, or by any other means or device in the nature of betting on cards, or betting of any kind, wins or obtains any sum of money".
While similar to many States, the harshest penalties are applied to the organizers of illegal games - charges for participation in illegal games can also apply for players. Therefore it is best to stick to the poker rooms of casinos and small home games.
What are Michigan's Options for Live Poker?
There are many places to play live poker in Michigan, with three State licensed casinos and many tribal ones operating within the borders.  You can find daily cash games and tournaments at nearly all of these sites, although the best offerings can be found at the larger sites such the MGM Grand Casino in Detroit and the Soaring Eagle Casino & Resort which has hosted legs of the Heartlands Poker Tour.
Social gambling, such as home games, fall into a grey area - as some Statutes permit them while others do not. As there is no record of innocent home games being broken up by the authorities, it is safe to say these games are tolerated providing no one profits from charging a rake or entry fee.
The Status of Online Poker in Michigan
In 1999 Michigan did ban gambling using a computer which, thankfully for online players, was quickly repealed. Now the State relies on existing Statutes, which should in theory ban internet poker. As no arrests have presently been made for playing online this remains an opinion, untested in a court of law.
Offshore sites still serve players within the State from countries outside the US, mainly the Caribbean islands. These are legal and licensed sites where they are based and argue they can provide games to US players because of free-trade agreements. While Federal laws exist restricting financial (banking) transactions to and from these sites there is no law has been tested to stop US players competing there.
With no legislation on the horizon it appears unlikely Michigan will adopt any form of regulated online poker in the near future.
In Summary – Michigan Poker
After a growth in legal gambling in recent times, Michigan offers poker players a wide range of venues to play in, especially for those based in Detroit. While online poker is not technically allowed, many players are still able to compete online on offshore sites with no apparent enforcement by the authorities.
Currently there are no plans to legalize online poker in Michigan.