Legal Wisconsin Poker Laws
A Guide to Poker in the State of Wisconsin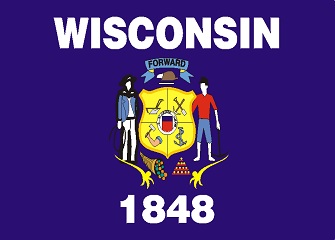 In this guide to poker in Wisconsin you can start with a quick look at how gambling developed, before the question is asked regarding pokers legality. Then you can find out about the live games allowed here and to wrap up the current status of online poker is covered.
A Brief Overview of Gambling in Wisconsin
Like many states, Wisconsin's gambling laws started with a completely banning all activities in 1848. This was the national moral stance at the time, and as the State has progressed gradual carve-outs have been made to accommodate different games.
Initially charity games such as bingo and raffles were made legal in 1973, although it was nearly 15 years later when pari-mutuel betting was permitted at Wisconsin's racetracks - shortly followed by lotteries. It was the 1990s that's saw a significant increase in gambling.
A few years earlier the Federal Indian Gaming Regulatory Act was passed, permitting tribes to operate gambling facilities on tribal land - providing the State they were in already had forms of gambling. This led to the 11 tribes within Wisconsin's borders opening up casinos once compacts were signed. The agreements included class 3 games which permitted the casinos to host a full range of table games and poker.
Is Poker Legal in Wisconsin?
The gambling laws in Wisconsin focus on the betting aspect of games in Section 945-01
"A bet is a bargain in which the parties agree that, dependent upon chance even though accompanied by some skill, one stands to win or lose something of value specified in the agreement."
As betting is key to all poker games then these laws class it under gambling without worrying about whether or not it is a skill game or chance game. Therefore any games for real money that are not carried out on licensed property count as being illegal gambling.
Where Can I Play Live Poker in Wisconsin?
Thanks to the tribal casinos there is now a wide choice of poker rooms, ranging from just a handful of tables to the larger 20 table room found at Potwatomi casino. Cash games vary depending on which casino you visit, although they normally meet local demand well. The larger casinos offer wide range of stakes in addition to daily tournaments. Prestigious national competitions like the Heartland Poker Tour have previously visited Lake of The Torches in Lac Du Flambeau and St Croix in Turtle Lake.
With no social carve out for home games, when these are played for money they are considered illegal. With no recent reports of small home games being broken up by the authorities it can be assumed that providing these are kept as friendly, low key activities between friends and no one takes a fee for running the games, then law enforcement is not concerned. The law also makes it illegal for charity poker to operate so fund-raising games must consist of either raffles or bingo.
Free to enter bar leagues have proved popular. With no entry fee these are considered legal and even offer prizes donated by the sponsor or business running the event. These tend to be more sociable and fun than serious poker games yet attract a loyal following.
Where Online Poker Stands in Wisconsin
With no laws directly addressing online poker in Wisconsin, it is assumed the existing laws cover the activity, which would make it illegal. This remains opinion however, as no one has been arrested let alone had a court case to get a real interpretation of the law.
This State is by no means anti-gambling and there are several voices talking in favor of legalizing online poker in a similar way to Nevada or New Jersey. As of yet nothing is happening and it is believed the law makers are keeping an eye on the existing legal States to see the numbers and issues they produce.
While residents wait for laws to pass many continue to enjoy playing on the offshore site. These sites operate out of areas like the Caribbean. These online poker rooms are fully legal and licensed in their own countries and argue the right to provide games to US citizens through international trade laws. Many players enjoy these rooms everyday although you do so at your own risk.
In Summary – Wisconsin Poker
Wisconsin is a poker friendly state only due to the investment by the tribes. These casinos have generated a lot of poker action and gambling revenues in the state, which otherwise would leave poker players with few options.
Regulated online poker could be a possibility in the future, although it is all quiet at the moment. Online players meanwhile continue to enjoy playing on the offshore sites which allow US citizens.