Washington D.C Poker Laws
A Guide to Poker in the District of Columbia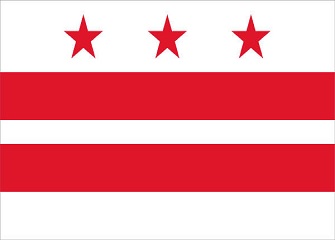 In this guide to poker in Washington DC you can first find a quick summary of gambling in the area. After this the laws regarding whether or not poker is legal are looked at before finding out where you can find a live game. To finish up you can see how online poker is viewed along with future thoughts.
A Brief Overview of Gambling in Washington DC
There has been little gambling activity in the District of Columbia with most activities banned. For a while there was pooled horse racing betting allowed at the tracks. While this is still legal, the races no longer run. A lottery was brought in in 1982 and charity nights featuring gambling and poker tournaments have always proved popular.
Residents for many years made the trip to New Jersey and Atlantic City before closer States began offering games. Now Maryland and West Virginia in particular gets good gambling revenue from the residents of the Capital.
There were attempts in 2010 to operate a State run online casino and the proposal even passed several votes. It was eventually abandoned in 2012 when politicians started getting nervous about what they had voted for, yet the fact it made it so far at the time is encouraging.
Is Poker Legal in Washington DC?
The key part of Washington DC's gambling laws reads:
"…playing any game of chance for money or property, or shall induce, entice, and permit any person to bet or play at or upon any such gaming table or gambling device, or on the side of or against the keeper thereof…"
While there is an array of sections relating to gambling, the District appears to focus on the act of betting and games that contain a degree of chance.
While it is not clear if the 'skill game' argument could work here in favor of poker, there are further clauses that would define cards and tables as 'gambling devices' and sections on properties used for gambling. Basically poker is covered no matter which way you can try and twist it.
Where District of Columbia Residents can Play Live Poker
With no card rooms or casinos in Washington DC players are forced to look elsewhere for serious poker games. Whether players opt for the riverboats of Maryland, the racinos of West Virginia or the casino resorts of Atlantic City is down to them. Whichever they pick there are great games available whether you want to play cash or tournaments. These States have also attracted major tours such as WPT or WSOP Circuit events.
Home games do not strictly exist legally in Washington DC. While you can happily play in these legally, the actual phrasing of the law appears to make it illegal to host a game. Generally law enforcement are not interested in busting small friendly games, instead reserving their use of these laws to the large underground games which normally profit through raking the pots and attract the undesirables the District wants the laws to discourage.
Free to enter bar tournaments are popular in the area. These allow players to compete for small prizes while not being charged an entry fee. These prizes are normally donated by the businesses where the events are run or by the leagues sponsors. Charity poker events do run occasionally, mainly as part of bigger fund raisers and have proved to be fun social games with typically part of the buy-ins going to the chosen cause.
The Status of Online Poker in Washington DC
Despite attempts to legalize an official internet casino, online poker is classed as being illegal in the District under existing laws. As the subject has already met with limited support, there is no reason that Washington DC would not accept regulated poker in the future especially when there is the chance to link player pools to already legalized States. This is still a while off and does not look likely in the near future.
Residents in the area can play on the available offshore poker sites at their own risk. While the State brands them illegal, no one has ever been arrested for playing and these sites, that operate legally from their own countries claim the right to provide games to Americans based on international free-trade agreements.
In Summary – Washington DC Poker
The District of Columbia offers very little for poker players, with the only live games being found at charity events or home games which occupy a legal grey area. Thankfully there are a number of good options found in the surrounding States.
It is entirely possibly that Washington DC may in the future regulate online poker, especially if they can join a compact to combine player pools, like Nevada and Delaware have. At the moment it is early days and there will have to be a lot more debate required before this turns into legislation.