Legal Ohio Poker Laws
A Guide to Poker in the State of Ohio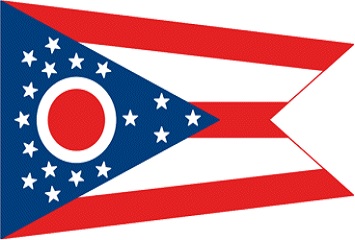 In this guide to poker in Ohio first up is a brief overview at the gambling regulations in the State, before a closer look at the laws which affect poker. Then you can find out where to play live games, along with a look at how online poker currently stands.
A Brief Overview of Gambling in Ohio
Like many States, Ohio entered the 20th century with a blanket ban on all gambling. This began to relax with pari-mutuel betting allowed at the horse racing tracks, followed by lotteries and activities such as bingo and raffles, specifically to raise money for good causes.
With no tribal casinos, licensed casinos were not permitted until 2009. This started with turning the racetracks into "Racinos" with the inclusion of slot machines and table games. Following this Ohio attracted major investments from gambling market leaders Hard Rock and Horseshoe Gaming, in addition to Hollywood Casinos who have three sites at Toledo, Dayton and Columbus.
These have given poker players the first real opportunity to play live in their home State, outside of the typically low stakes home games.
Is Poker Legal in Ohio
Ohio gambling law makes includes reference to betting and 'games of chance' and makes all such activities illegal unless they are within permitted environments. Those who wish to argue poker as a game of skill are cut short by the Statutes, which specifically name poker as a game of chance.
Section 2915.01(D): "'Game of chance' means poker, craps, roulette, or other game in which a player gives anything of value in the hope of gain, the outcome of which is determined largely by chance, but does not include bingo…"
Under the law both players and operators can be prosecuted if they are found involved in illegal gambling.
Live Poker Options for Ohio Players
After many years of no gambling at all Ohio now have some fantastic modern poker rooms in their new casinos. You find many cash games available in different games variations and stakes as well as daily tournaments. Major national tours such as the WSOP circuit have visited The Horseshoe in Cincinnati, offering a number of top quality tournaments.
Home games are legal in Ohio under laws which permit social gambling. The main condition here is that no one profits from organizing it as a business, so no one can take a rake or fee for running the games.
There are poker games that are popular in other States which are restricted here, namely bar leagues and charity games. The bar leagues normally operate as free to enter tournaments with prizes offered by the business, some still openly exist while many have been closed down. It is felt they do not fall into the social gaming carve-out as they profit from the extra sales the games generate. Meanwhile the charity games clearly defined as illegal, despite other gambling games being allowed to raise funds.
Online Poker in Ohio
Despite no recent legislation naming online poker, the opinion here is that internet gambling is prohibited by the existing Statutes. This has yet to be tested in a court and with no desire on the part of the enforcement agencies to arrest people for playing on a computer at home - it looks unlikely there will be ever be a ruling until an amendment is made.
Currently an investigation is taking place on internet cafes which provide games and are essentially hubs for online casinos. In other States these have been banned and in Florida laws were brought in outlawing gambling on any computing device. Whether this will happen or not in Ohio is anyone's guess as Ohio Lottery director, Dennis Berg has already stated a desire to explore online gambling in the State. There appear to be strong voices both sides of the regulation argument, yet little action.
Poker players in Ohio are still able to use the offshore poker sites, which operate legally out of the areas like the Caribbean. Tens of thousands of US citizens play on these every day, and while there are federal restrictions in place making money transactions on and off these sites harder than they should be, there is no specific law preventing Ohio residents playing there.
In Summary – Ohio Poker
Since the liberalization of the gambling laws, Ohio casinos have become very popular and provided poker players with great settings to play in. The hope is not only will this success encourage more casinos and card rooms, eventually online poker will be legalized also.
Currently there is no regulation, and while it remains a possibility for the future it is still a way off.