Virginia Poker / Gambling Laws
A Guide to Poker in the State of Virginia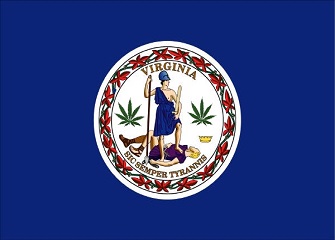 neighboring States of Delawareand Maryland, or even to Atlantic City in New Jersey to get action.
In this guide to poker in Virginia you can first find a quick guide to the history of gambling in the State. Then the laws relating to poker is looked at to ask if it can be played legally or not before looking at live games. Finally you can find how online poker stands in Virginia.
A Brief Overview of Gambling in Virginia
Virginia's main gambling activity is pari-mutuel betting on horse racing at Colonial Downs. While there is only one track in this State, Virginia allows players to bet via electronic terminals found in restaurants and bars, and on races outside of the State. Other than this the only legal games are a state lottery, which donates profits to education, and charity gambling such as bingo and raffles.
There have been attempts to legalize river boat casinos. These 'cruises to nowhere' operate in other coastal states and take players into international waters to gamble. Despite the recognition that Virginia is losing out on tax dollars to neighboring states, proposals to allow river boats have never made it past the committee stage.
With many opponents to widening any gambling laws it looks unlikely there will be further growth of the industry either live or online.
Is Poker Legal in Virginia?
Section 18.2-325(1) of Virginia's laws covers gambling like this:
""Illegal gambling" means the making, placing or receipt, of any bet or wager in this Commonwealth of money or other thing of value, made in exchange for a chance to win a prize, stake or other consideration or thing of value, dependent upon the result of any game, contest or any other event the outcome of which is uncertain or a matter of chance, whether such game, contest or event, occurs or is to occur inside or outside the limits of this Commonwealth."
In short the law restricts anyone betting on a game of chance. While there have been attempts to class poker as a skill game, this has been unsuccessful in previous court cases. As such poker is classed as gambling and with no licensed rooms available it is illegal, with the only exception being if it is played as a 'social game'.
What Virginia Offers Live Poker Players
With no casinos or card rooms in Virginia, players need to travel over the border in order to play competitively. Thankfully where the Virginia is positioned you can find opportunities in every surrounding State and even New Jersey is not an unreasonable distance away. West Virginia, Delaware, Maryland and Pennsylvania are all close by and offer a great selection of games. If you travel south you can find Harrah's Cherokee in North Carolina which is a huge venue and has played host to major tournaments like WSOP Circuit Events.
Under social gaming laws home games are permitted. To operate legally they need to abide by a number of laws, most importantly no one can profit by taking rake or a fee from running the games. The games are also cannot be 'regular' although there is no indication what this term specifically means. Providing you run a friendly game among people you know and do not try to turn it into a business or event you should be fine.
Free to enter bar leagues operate in the State and are fairly popular. Despite having no entry fee players have the chance to win small prizes donated for the events. The bars meanwhile profit of the extra food and drink sales the games generate. Charity laws however do not permit poker games.
How Virginia Regards Online Poker
Online Poker is considered to be illegal despite no laws actually addressing the game directly. The consensus is, like in many States, the existing Statutes cover internet gambling sufficiently enough.
There are still offshore sites providing games for residents of Virginia and other parts of the US. These operate legally, mainly from Caribbean islands such as Antigua and Netherlands Antilles and argue their right to provide games to US players through free-trade agreements. Many players both in Virginia and nationally enjoy these games every day and there is no record of any arrests, let alone charges for playing online, although you do so at your own risk.
In Summary – Virginia Poker
With many neighboring States offering plenty of poker games it is a shame Virginia does not take a more relaxed view on the subject. Thankfully this also means games are only a short journey away and to fill the gaps between trips players are free to enjoy home games.
Online poker regulation looks unlikely despite the willingness to accept electronic terminals to allow horse betting. With so many gambling opponents it looks to be a long time before any legislation is passed.