Illinois Poker Laws
A Guide to Poker in the State of Illinois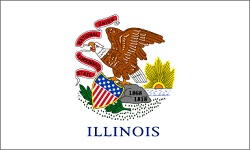 Illinois has a long history of poker and gambling. This State has led the way in modern times by being an early adopter of new methods and technology. Being the first State to allow forms of online gambling Illinois appears to be a sure bet for future legal online poker. The question is when.
In this guide to poker in Illinois you can start by briefly seeing how gambling has developed in recent years. After this the question is asked whether or not poker is legal within Illinois. The options for live play are covered next before looking at where online poker stands in this State.
The History of Poker in Illinois
In 1991 casino table games and poker were made accessible to the public. While there still continues to be resistance to land-based casinos, riverboat casinos became legal. These offered cruises up and down the rivers while games were in progress on board. In 1999 the requirement for movement was removed and these boats remained moored in permanent docks.
This State has a progressive approach to online gambling becoming the first state to allow lottery tickets to be purchased online in 2001. Even online poker was briefly legalized in 2012, although this was soon reversed.
Legalized gaming is highly taxed in Illinois. Despite the anti-gambling objectors, there always appears a willingness to look at new ideas in order to raise funds.
Is Poker Legal in Illinois?
Chapter 38, Paragraph 28-1 of Illinois Statutes defines illegal gambling as when a person "knowingly plays a game of chance or skill for money or other thing of value". This broad wording covers pretty much any activity which one can wager on including poker.
Despite the State not having a clause allowing for social gaming, they do legislate for some places where you can play. Illinois was the second State to regulate riverboat casinos, all of which are able to spread poker games and some charity games have been permitted
Live Poker in Illinois
Live poker games can be found on the river boat casinos. Currently there are 10 such boats operating in the State, which since 1999 have been permitted to allow games while remaining docked. Even though the State has rejected calls to allow these casinos to stay open 24hrs they only have to close for 2 hours each day. These offer cash games and a regular tournament schedule.
Home games are enjoyed by many players across the state despite any leniency towards social games. While they are not legal, no player has ever appeared in court for participating in one. Providing the stakes are kept to reasonable levels, and the game is not raked or advertised, the authorities probably would not be concerned about low stakes games between friends and family.
While attempts to license land based casinos in Illinois have so far failed it is viewed as just a matter of time as the State government recognize they are losing out on tax revenue by having players travel over the border to Indiana.
Online Poker in Illinois
As Illinois is already offers online gambling by allowing players to purchase lottery tickets and gamble on horse racing, having regulated online poker in the state is just a matter of time. At present the State is focused on establishing land based casinos before tackling the issue of regulated online poker and casino games.
In Illinois law there is a section which would prohibit the creation of an online poker site within the state. There is no mention of restricting players participating on the sites operated from outside the State. As a result Illinois, like many States, have created a grey area where it is uncertain if you are breaking the law by playing online.
The offshore sites are fully licensed and operate legally in their home countries, usually one of the Caribbean islands - and argue they can provide games to US players because of free-trade rules. While no one has been prosecuted for playing online in Illinois, the risk remains, although tens of thousands US citizens do the same thing every day.
In Summary – Illinois Poker
While Illinois has a wide ranging Statute, covering poker and any other potential form of gambling, the State is generally liberal toward gambling as long as it is taxable. For poker players this means that although home games are technically illegal, there is live action available on board the riverboats.
For online players while there is no legislation specifically making it a crime to play on the internet, it does fall into a grey area where players could be competing in illegal games. The good news is the State is open to the ideas of online gaming. The bad news is they have said the subject will be approached once land based casinos are regulated which still seems some time off.