Poker Laws in Alaska
A Guide to Poker Legislation in the State of Alaska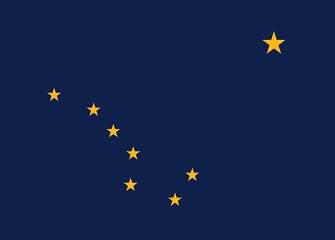 Poker is not specifically authorized by law in Alaska. It falls into the large legal category of illegal gambling, which covers many almost all games in this State. The only games available are either live home games or offshore online poker operating on an untested legal basis.
This guide to Alaskan poker laws begins with a brief summary of authorized gambling within the State. Then the question of poker's legality is asked, before looking at the options for live players. To wrap up you can find the current situation of online poker, along with future predictions for Alaska.
The Alaskan Gambling Environment
Alaskan gambling law has been a build-up of legislation, rather than key events, which has led to red-tape and restriction for many gambling pastimes, including poker.  The most recent, relevant legislation is Alaska Statute 11.66.200 (2009) which has prohibited all gambling.
There have been repeated attempts to legalize gambling in Alaska, although this has always been met with opposition. The only forms of gambling permitted are charity wagers on local events, such as dog mushing contests and predicting when the first Crane will arrive that summer.
The few tribal casinos that operate only provide bingo games and State authorization is even required to run a charity raffle. There are potentially tough penalties for those who promote or profit from illegal games in Alaska.
Is Playing Poker in Alaska Legal?
Despite not being specifically named, poker's legal status as a gambling game is covered in the Alaska Statue, Section 11.66.280(2), where:
""gambling" means that a person stakes or risks something of value upon the outcome of a contest of chance or a future contingent event not under the person's control or influence,". Alaskan law only requires a game to have an element of luck to be deemed a game of chance. As such poker is classed as illegal gambling…"
In 2005 Perry Green, a 3x WSOP bracelet winner from Anchorage, attempted to legalize poker with a view to growing the State's economy. Despite having a lot of political support the proposal was blocked by the anti-gambling politicians and did not progress pass committee in 2006.
You can play poker as a social home-game in Alaska, providing no profit is gained by those operating the game.
The Choice of Live Poker in Alaska
With the exception of home games which abide social gaming rules, there is no legal option to play live poker within Alaska. No casinos offers poker or other table games and there are no specific poker card rooms operating within the State. The only other options are free bar leagues that operate as social games.  
You can find summer cruises operating from the state which provide on board casino and poker games, although this is not the most practical or economical option for the majority of players. Therefore the only realistic option for players is to travel to Canada or other US states if they wish to compete in high quality games.
The Online Poker Situation for Alaskan Players
There is no Alaskan legislation specifically referring to online poker, although the Attorney General has stated that online games are considered unlawful under current laws. This has yet to be tested in a court as no one has been charged or even arrested for playing online.
The online sites providing games for US customers are located in countries where these games are legal, mostly Caribbean islands. These companies and governments have argued that free trade agreements mean they can legally provide games to US players. The US government's response has been to place restrictions on financial transactions to and from such sites, although no Federal laws have been brought in to make it illegal for individuals to play on them.
With the State's strong anti-gambling stance, along with low population and poor broadband coverage, there appears to be little appetite for legalized online poker at present. At present, with few regulated states to potentially partner with, the conditions in Alaska makes it uneconomic for those in favor of regulation to pursue it for either taxation or profit purposes.
In Summary – Alaska Poker
Poker is considered illegal gaming in Alaska - although social games are permitted that do not make profit for those operating them. Despite previous attempts to get poker regulated, this has yet to meet with success in live games.
Online poker currently operates in a grey market. While it is believed that online poker is illegal under current law, there is no history of the law being enforced for this purpose. As such many players across the State enjoy playing on offshore sites.
Given the state's anti-gambling history there is no indication that there will be legal online anytime soon.