Legal Kansas Poker Laws
A Guide to Poker in the State of Kansas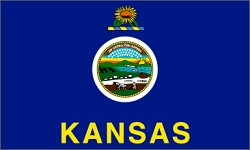 In this guide to poker in Kansas you will first find a brief overview of gambling history within the State. Then the question of poker's legal status is answered along with how you can play live. To wrap up your options for online poker in Kansas is covered together with thoughts on the future.
History of Gambling in Kansas
Like many States gambling reached its height in Kansas in the 1800s as the pioneers pushed west in search of land and gold. In towns such as Dodge City, gambling became part of the culture, accepted despite the dangers and disputes it brought with it.
This was ended as the as the State moved into the 20th century and began banning all gambling pursuits. It was not until the 1970s where some gambling including the State lottery and charity games were permitted. Finally in 1995 the tide turned when tribal casinos were allowed, which created gave the residents of Kansas the first legal place to play poker games.
Is Poker Legal in Kansas?
Section 21-4303 states that "Gambling is - Making a bet or entering or remaining in a gambling place with intent to make a bet, to participate in a lottery, or to play a gambling device."
By making the betting itself illegal, Kansas bypasses the need to define poker as either a skill game or luck game – either way betting is involved so poker is covered.
When the law is broken down you could actually be breaching it just by being present when illegal gambling is taking place. While the organizers could face jail time in addition to fines, if you are caught playing it is a class B misdemeanor, meaning you could be liable to some relatively large fines.
Thankfully there is opportunity to play poker legally in the regulated casinos, mostly found on tribal land.
Where in Kansas Can I Play Live Poker?
There are a small number of poker rooms in Kansas - all located within the major casinos. Here you can find cash games running 24/7 with stakes to suit most patrons. There are also daily tournaments and regional events. The Ameristar Casino Hotel and Harrah's in Kansas City has played host to legs of the Heartlands Poker Tour and WPT, attracting players from across the country.
Home games are technically illegal in Kansas, as there is no law specifically addressing social games. There is very little or no enforcement on this providing the games are low stakes and no one is profiting from rakes or fees.
You can find free to enter bar leagues within the State. These generally offer prizes provided by the establishment running the events, that benefit from the extra sales these games bring. Charity and fund raising poker events are not permitted.
The State of Online Poker in Kansas
While there is no law specifically naming online poker in Kanas, the attorney general in 2009 stated he believed that the activity be illegal under current laws. This still remains opinion and untested in a court of law as no one has yet been arrested in this State for playing online poker.
There have been attempts to make online gambling illegal in Kansas, the most recent one was in 2013 which attempted to expand bricks and mortar casinos included the banning of online games in order to pacify opponents. This bill did not pass. It is believed that the lawmakers in Kansas are observing how the already regulated States do before creating their own online legislation.
While players are waiting for this to happen there is still the possibility of playing online through one of the offshore sites. These are mostly based in the Caribbean where they are licensed and operate perfectly legally. They claim they can provide games to US players based on free-trade treaties. While the US has taken steps to block financial transactions to and from the sites, there is nothing which specifically makes it illegal to play on these sites and many Americans enjoy doing so each day.
In Summary – Kansas Poker
Kansas does permit residents to enjoy poker in a decent selection of legal casinos operating within the State. While the law does not permit home games enforcement is fairly relaxed on this, although being arrested for illegal gambling can carry some heavy penalties
Online poker in Kansas has not been addressed directly in the law, the assumption being the current laws cover it already. There have been failed attempts to ban the online game in Kansas which have all failed. Now it is believed Kansas is playing a 'wait and see' game as to whether it will implement legislation in the future and there are no immediate plans.
http://www.gambling-law-us.com/State-Laws/Kansas/
http://krgc.ks.gov//racing-gaming-law/regulations/gaming-regulations