New York Poker Laws
A Guide to Poker in the State of New York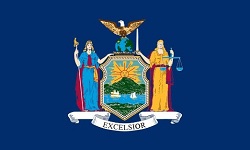 This guide to poker in NY State starts with a brief overview of gambling in the area. You can then find the laws relating to poker followed by the options for live games. To wrap it online poker is covered along with future thoughts.
A Brief History of Gambling in New York State
New York was the first state to prohibit all gambling on its constitution, although all this succeeded doing was pushing gambling underground and into the hands of organized crime. The first legal gambling here was not until the late 1930s when pari-mutuel betting was allowed at the horse racing tracks, followed by charity betting in the 60s and 70s.
Other forms of gambling, including slot machines at racetracks and casinos were not allowed until the after the 1988 Indian Gaming Regulatory Act, which allowed the Native Tribes across America to build casinos on their territory. As rooms opened up in New York State, residents no longer had to travel to Connecticut or Atlantic City to enjoy live poker games.
Recent legislation has authorized State licensed casinos in New York. While this is still going through different processes it is hoped that these lavish new venues will be accepting customers in the next couple of years.
Is Poker Legal in New York State?
Section 225 of New York Statutes defines the act of gambling as when a person 
"...stakes or risks something of value upon the outcome of a contest of chance or a future contingent event not under his control or influence, upon an agreement or understanding that he will receive something of value in the event of a certain outcome."
While this looks like poker can escape a gambling tag by arguing it is a game of skill, the laws go on to further describe the 'contest of chance' as needing just an element of chance, something which has included poker for a long time. The recent rulings have seen poker classed as a game of skill, although these have since been overturned by the US Supreme Court.
As such poker is only legal in regulated environments or as a social game which are allowed in this State. Law enforcement is active in New York State with regards to closing down illegal games, although fortunately there are no charges applicable to the players involved.
The Live Options for Poker Players in New York State
You can find poker games spread in the tribal casinos scattered around the State. Currently there are seven card rooms available of reasonable size. Most of these card rooms do contain a reasonable spread of cash games - along with daily low stakes tournaments. One of the larger casinos, Turning Stone, has hosted a regular leg of the Heartland Poker Tour. New York could soon see up to seven State regulated rooms with recently passed legislation.
Home games are legal in New York under regulations which permit social games. This depends on the key conditions that no one profits for rake or fees charged for playing and that the games are played on equal terms. In addition free to enter bar leagues are popular in New York, and are primarily fun events, often awarding small prizes donated by the premises. Charity tournaments also run, as long as they gain permission from the Gaming Control Board.
The Status of Online Poker in New York
New York State and online poker have crossed paths before, with the Black Friday indictments originating here. These actions by the State's attorney general were a major event in online poker's history and closed the door to the US for the world's largest poker rooms.
Meanwhile the State government is becoming increasingly warm toward the idea of gambling generally and the tax revenues a legalized online gambling network could provide. Legislation may still realistically be a while off.
Currently NY State players can still compete on the offshore sites providing games to tens of thousands of players in the US every day. These are based in countries where online poker is legal and licensed, normally in the Caribbean and believe that international trade agreements allow them to provide games to the US. While the measure brought in by the UIGEA may limit payment methods, nothing actually stops players using the sites.
In Summary – New York State Poker
Having previously taken a hard line against gambling, NY State's officials are becoming more accepting of the idea, with new State casinos lined up for the future. New York still takes a very harsh view towards illegal games, and while no charges apply to players the organizers could face severe penalties.
There is talk and possibilities of regulation online poker here, although it is doubtful anything will go through until the brick and mortar casinos have been established.
Poker Skill game
http://dealbreaker.com/uploads/2012/08/poker-ruling.pdf
Online possible
http://www.forbes.com/sites/darrenheitner/2014/04/23/can-online-poker-become-the-new-king-of-new-york/