Arizona Poker Laws
A Guide to Poker Legislation in the State Of Arizona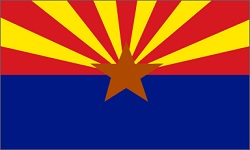 Arizona enforces broad gambling laws, which restrict many games including poker at the same time as allowing other games and betting activities. Meanwhile gambling is permitted within Tribal territory which covers 25% of this State.
In this guide you can find a brief history of gambling legislation within Arizona, before the question of poker's legality is answered. Then you can discover the options available for live poker games within Arizona. To finish up the situation regarding online poker is covered along with possibilities of future developments.
A Brief History of Gambling Legislation in Arizona
While gambling was once common in Arizona, began to be phased out prior to joining the Union in 1912. In order to gain Congressional support for statehood Arizona began to follow what other US States were doing and banned all forms of gambling with the exception of horse racing.
In the 1950s a vote was made against legal casinos, although there were some loosening of legislation to include dog racing and charitable gambling, such as lotteries and raffles, as permitted activities.
It was not until 1988 when the Indian Gaming Regulatory act was passed allowing tribes to operate regulated casinos within their territories that gambling began to expand. With 22 tribes claiming territory within Arizona this led to a rapid expansion of casinos on Tribal land throughout the 1990s. There are now plenty of regulated casinos and card rooms to choose from.
Is Poker Legal in Arizona?
According to Chapter 33, section 13-3301 of Arizona state law "gambling" is defined when three circumstances occur – "(1) risking or giving something of value (2) for the opportunity to obtain a benefit (3) from a game or contest of chance or skill or a future contingent event". This covers all forms of casino games including poker, which are all banned as a result.
Poker is therefore classed as illegal gambling in Arizona, except when it is on regulated Tribal land. Online poker within Arizona is addressed in the Statute and it is deemed illegal to provide internet gaming anywhere within this State.
Where you can Find Arizona's Live Poker Games
Home games are permitted under Arizona law as social games.  Participants must be over 21 and no one is allowed to benefit from the game in any way other than the winnings they collect. This rules out the charging of rake or entry fees, in addition to indirect gains, such as attract customers to boost retail sales. As such bar leagues do get shut down frequently.
Players may compete legally in live poker games and tournaments in regulated sites on Tribal land. Regular tournament run with buy-ins ranging from $5 up to $130.
While penalties are in place for those operating illegal card games, there are little or no consequences for players caught participating in these games.
How Online Poker Stands in Arizona
Arizona State law prevents anyone establishing internet gambling operations within its jurisdiction. While this law also restricts tribes from running online games from within their territories, there are questions about this law, which has never been tested in a court.
Currently with no regulated online poker rooms in Arizona, online players enjoy competing on the offshore sites which operate mainly from Caribbean islands. The companies providing these games are operating perfectly legally in their own country, and it is argued that they are able to provide games to US players due to international trade agreements.
Instead of imposing laws to prevent players from competing online the US government has sought to prevent financial transactions through UIGEA, the Unlawful Internet Gambling Enforcement Act of 2006, which was championed by Arizona senator Jon Kyl. Arizona has followed this lead and there are no laws in place to prevent players competing online within the state.
Despite other States moving towards regulated online games, Arizona shows no signs of willingness to progress in this area.
In Summary –Arizona Poker
Despite laws deeming gambling games as illegal, you can find legal poker games running in the Tribal territories of Arizona. There is also the opportunity to hold your own home games, providing you abide by certain rules.
While it is illegal to operate an online poker business from within Arizona, there are no laws preventing players competing online. Arizona's law has typically targeted the providers of illegal games rather the participants. Because of this many Arizona residents enjoy playing on offshore poker sites.
There are currently no plans to introduce legalized online poker within Arizona.