Legal South Carolina Poker
A Guide to Poker in the State of South Carolina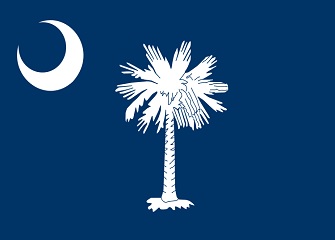 In this guide to poker in South Carolina first you can find a quick summary of the gambling history of this State. After that the laws relating to poker are looked at before – information on whether there are any opportunities to play live. To wrap things up you can see the status of online poker in South Carolina along with thoughts for the future.
A Brief Overview of Gambling in South Carolina
Gambling opportunities are scarce in South Carolina. With the exception of some charitable gambling such as low stakes bingo games the only other form is the State lottery which has been running since 2001. This strict stance has created underground games, although the enforcement agencies do take an active role in shutting these down.
The only casinos can be found on the boats sailing out of coastal towns, although they have been subject to past controversy, with the county authorities trying to ban them. As the boats only permit gambling once they reach international waters, they claimed they were no different to other cruises while in South Carolina's jurisdiction. With both sides taking the arguments to the courts, a settlement was finally agreed that the boats had to pay the counties a $7 tax for every passenger they took.
Is Poker Legal in South Carolina
The statutes feature several laws cementing their anti-gambling stance, from the act of betting, to games and gambling devices. Basically if you are playing something the State considers illegal, there will be a law to fit.
Section 16-19-40 makes the following illegal:
"…(a) any game with cards or dice, (b) any gaming table, commonly called A, B, C, or E, O, or any gaming table known or distinguished by any other letters or by any figures, (c) any roley-poley table, (d) rouge et noir, (e) any faro bank (f) any other table or bank of the same or the like kind under any denomination whatsoever or (g) any machine or device licensed pursuant to Section 12-21-2720 and used for gambling purposes…"
There are a few carve outs for games such as billiards, backgammon and chess although no betting is specified for these games. This means that even playing poker for no money or just owning a poker table would be classed as illegal gambling.
Poker has been the subject to much legal debate particularly in the Mt Pleasant vs Chimento case. A raid on a home game initially saw the defendant convicted in 2006 until he won an appeal arguing that poker was a "skill game". This later got overruled by the Supreme Court in 2012 which still insisted on classing poker as gambling and therefore illegal.
Does South Carolina Offer Live Poker?
There is nowhere to play poker legally in South Carolina. With no land based casinos there are no card rooms and the boats which take players on 'cruises to nowhere' do not spread poker games. There is poker available in nearby States, although none are really that close unless you were planning a few days away.
As it appears even looking at a deck of cards could be classed as illegal in some way, home games and charity poker events are not permitted. South Carolina authorities have a history of raiding even small stakes games so if you are willing to take the chance, it would be best to keep games low key and for pennies.
The Status of Online Poker in South Carolina
Along with other forms of poker, online poker is considered illegal going by the existing statutes. While no one has yet been arrested for playing online, it seems the State is far more likely to do this than regulate the games.
Residents who choose to play online can do so on the offshore sites if they wish. While disapproved of by both Federal and State governments, these sites operate legally outside the US and argue their right to provide games to US players through free-trade laws. There are restrictions in place which makes it hard to easily get cash online, although the sites can normally help you out.
In Summary – South Carolina Poker
South Carolina is completely dry when it comes to poker. Even playing for fun at home can be classed as illegal and there is little chance of the state changing its views anytime soon. Online poker is still available via offshore sites despite being classed as illegal, although this has never been addressed in a court.
South Carolina is definitely one of those States where regulated online poker will not see the light of day in the foreseeable future.
Laws
http://law.justia.com/codes/south-carolina/2012/title-16/chapter-19/section-16-19-40