Poker Laws in Arkansas
A Guide to Poker in the State of Arkansas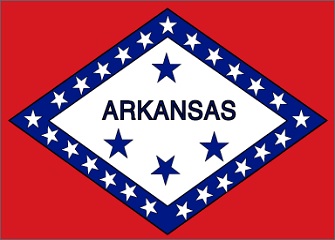 Once a hub of casinos and gambling in the early 1900s, Arkansas eventually banned most games including poker due to high levels of mob activity. Poker players now have limited options should they wish to enjoy either live or online games.
In this guide to Arkansas poker you can find a history of how Arkansas's gambling laws developed. Then the specific question of poker's legality is asked. After that you can discover the options for live players, in addition to the current situation and future predictions for online games.
The History of Arkansas Gambling Laws
Gambling in Arkansas developed rapidly in the years after the Civil War. Hot Springs, a federally protected reserve, became the focus for gambling and other illegal activities fought over by two warring families. The 1900s saw the town expand and by the 1920s Hot Springs became a gambling haven with horse racing wagering and 10 major casinos established alongside many smaller operations.
The gambling operations still remained heavily influenced by organized crime throughout the 1920s and 30s. This became entwined in Hot Springs politics until change began in 1946 when Sid McMath, a returning war veteran led the GI Revolt which removed the mayor, Leo P. McLaughlin, from office. In 1947 a grand jury indicted several major casino owners and McLaughlin for bribery.
Despite this illegal gambling remained in place until 1967 when it was finally shut down by a new Republican governor. Casinos were shut down and their equipment was burnt. The only gambling in the State was at the Oaklawn and Southland racetracks, until gambling reforms occurred nearly 40 years later. Since then legislation has come in permitting skill games, bingo and charitable gambling such as lotteries and raffles.
Is Poker Legal in Arkansas?
While it is not illegal to play poker in Arkansas, it is illegal to place bets during the game.
Section 5-66-112 - "If a person bets any money or any valuable thing on any game of brag, bluff, poker … upon conviction he or she is guilty of a violation and shall be fined in any sum not less than ten dollars ($10.00) nor more than twenty-five dollars ($25.00)"
As there is no provision for social gaming in Arkansas statutes then this applies to all poker games, including home games, although these games are generally ignored by law enforcement unless there are other reasons to break them up. Even if your home game does happen to be raided, the fines remain set at their 1967 levels, so the maximum fine of $25 is hardly likely to break the bank.
While there may be scope to argue poker as a game of skill, the fact it is specified in the Statute would make it tough to overturn its status as illegal gambling.
Live Poker Options in Arkansas
While live games, including home games are illegal within Arkansas, there is one card room where games are permitted. This is located at the Southland Race Track where, since 2009, wagering on a limited number of games of skill has been permitted. Cash games run until 4am each day and there are small daily tournaments.
With only one option for live play within the state many residents travel to the neighboring states of Mississippi and Louisiana. Both States operate a more liberal approach to poker, providing players with a large number of poker rooms.
Arkansas's Online Poker Landscape
As with many States there are no specific legislation designed for online poker. It is assumed therefore that the current laws, last amended in 1967, cover online games also. This would mean that online gambling including poker is technically illegal for residents to partake in, as the sites currently available are not licensed. As yet no players have ever been arrested for playing online poker and there appears no benefit in the state pursuing those who do for a maximum $25 fine.
Like many thousands of US players the only real option for online poker is to play on an offshore site. The companies operating these are based abroad, mostly on Caribbean islands such as Antigua and Netherlands Antilles. In their countries the games they provide are perfectly legal and they argue their right to offer their service to US players based on free trade laws.
There is no indication that Arkansas will move towards state regulated online gaming in the near future.
In Summary – Arkansas Poker
If Arkansas had opted to regulate gambling instead of restricting it, there is every chance Hot Springs could be on par, if not bigger than Las Vegas. As the state adopted restriction, residents are instead left with few options with the one poker room serving the entire State.
There are is still online poker available from offshore sites and while risks exist with the legality of this, they are minimal as no enforcement is in place.