Legal Poker in California
A Guide to Poker in the State of California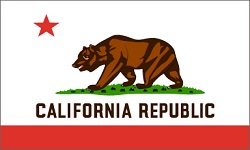 Poker has had a colorful history in California. It has become the State of choice for many live poker players, surpassing even Nevada. With positive signals coming from California it looks that regulated online poker is more of a question of 'when' and not 'if'.
In this guide to California poker you will first find a history of how the attitudes towards poker developed. Following that the question of poker's legal status is addressed. After that you can discover the many options for live players, before wrapping up with the current status of the online game.
Poker History in California
During the Gold Rush days gambling was unsurprisingly rampant in California, with many embracing the ideas of taking risks in return for wealth. Card games including early poker variants became popular among 19th century gamblers. California then followed the other States at the turn of the century, by banning most forms of gambling with 11 specific games named, including "Stud Horse Poker".
The ban on stud horse poker resulted in the assumption all poker games were illegal. In 1911 the attorney general ruled that draw poker was significantly different enough to stud poker thereby permitting draw games while outlawing stud. This resulted in the growth of card rooms in California providing draw variants, including 5 Card Draw and Lowball games.
Card rooms began to offer Holdem in the 1970s and were soon faced with legal issues when it was claimed that flop games were essentially stud variations. These claims were challenged in different courts across California, although confusion came about with different court's ruling is opposite ways. Finally when the Oak Card Club appealed in their jurisdiction, where it was ruled that flop games should be permitted, the amusing fact came to light that no-one had a clue what stud horse poker was. Following this case in 1987, it was agreed card rooms could now spread stud and flop games.
This led to the rapid growth of California card rooms.
Is Poker Legal in California?
California law for poker focuses on the rake charged for the game, rather than the actual game itself. Section 330 of the Statute views illegal gambling as: "…banking or percentage game played with cards, dice, or any device, for money, checks, credit, or other representative of value..."
The result is that games are raked at a flat fee, rather than traditionally as a percentage of the pot. Tournament fees, while technically a percentage of the buy-in, are easily justified as being a flat fee also.
This means that although playing poker is legal in California, you can be viewed as playing in an illegal game should the rake-system breach the law.
Playing Live Poker in California
Regarded as the poker capital of the US, California boasts a large number of poker rooms spread across the State. There are many 'California Casinos' which offer poker among their non-banked games. The biggest of these is the world famous Commerce Casino, home of the LA Poker Classic, which hosts an array of tournaments and cash games to accommodate all players.
In addition to the 38 card rooms there are a large number of casinos operating on Tribal lands, many of which offer a wide range of poker games. This State has even been known to draw players across from neighboring Nevada who are looking for specifically for poker action.
For those wishing to run home games, this is perfectly legal in California as long as no rake or fees are taken by the operators.
California Online Poker Moves Toward Regulation
There is no regulated online poker within California, although debates are currently running and it is only believed to be a matter of time before online games are approved. The State is a major target for the poker sites. Due to its size in both economic and population terms, alongside its history of poker games. California is one of the few States believed able to provide a poker market with significant liquidity.
The discussions are seeing a lot of time being taken up by corporate and tribal opposition to the development of online regulation and inclusion of major online companies, namely PokerStars. Despite not serving US players since 2011, PokerStars still receives overwhelming loyalty and support from the California poker community and has been doing deals to avoid any "bad actor" clauses used to block its entry.
While the discussions continue, players' online choices are limited only to the offshore sites serving US players. These sites operate perfectly legally from foreign countries and argue they can provide games to US players due to free-trade laws. There are no legal restrictions against players competing in these rooms, although there are laws preventing US companies processing financial transactions for the sites.
In Summary – California Poker
California offers poker players some of the best games in the world. While legal requirements mean the games are raked differently to elsewhere, there are many legal card rooms and casinos in operation.
Even though regulated online poker is not a reality at present, this State is moving towards establishing licensed rooms. Meanwhile many thousands of players enjoy play on offshore sites from within California with no interference from the State government.