Washington State Poker Laws
A Guide to Poker in the State of Washington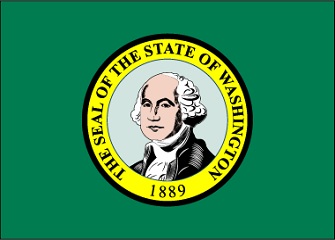 In this guide to poker in Washington State first up is an overview of the general gambling environment. After this the laws regarding poker are looked at, including clauses for both live and online poker games.  You can then find out about the opportunities for live poker along with the current status of online games.
A Brief History of Gambling in Washington State
The Washington Statues were drawn up at a time where there was an anti-gambling feeling running throughout the country at the end of the 1800s. Since then different exemptions and carve-outs have been added to allow a flourishing live poker environment.
The first betting to be allowed was pari-mutuel betting at horse racing tracks in the 1930s, followed by charity gambling such as bingo and raffles. In 1982 the State lottery was introduced and scratch cards were included in legalized gambling.
The major moves which relaxed the gambling laws came from the tribes of Washington State, who negotiated compacts in the 1990s which permitted the building of casinos on their land. This State now has 32 tribal casinos in operation and they have been joined by a number of card rooms and state licensed casinos offering.
Is Poker Legal in Washington State?
With many legal card rooms operating poker here is fully legal in licensed environments.
The actual state law defining gambling can be found in Section 9.46.0237 which is considered 
"…staking or risking something of value upon the outcome of a contest of chance or a future contingent event not under the person's control or influence, upon an agreement or understanding that the person or someone else will receive something of value in the event of a certain outcome."
As the Statute continues it becomes apparent that a game merely needs to have an 'element of chance' to be considered a 'contest of chance'. This would therefore include poker which although wins strong argument for a skill game also contains an undeniable degree of chance.
Internet gambling must also include poker and is covered by this amendment making playing online poker a felony.
"Whoever knowingly transmits or receives gambling information by telephone, telegraph, radio, semaphore, the internet, a telecommunications transmission system, or similar means, or knowingly installs or maintains equipment for the transmission or receipt of gambling information shall be guilty of a class C felony…"
Where You Can Play Live Poker in Washington State
There are many choices of games in the card rooms throughout Washington State. You can often find cash games of varying stakes with Pot Limit Holdem being a favorite here. You can normally find a weekly tournament schedule, although the rooms tend to be on the smaller side and do not attract major national tours. You may also find house rules enforced which limit maximum bets of $40 or limit pot sizes to $500.
Home games are legal in Washington State providing they stay within social gaming laws, basically meaning that no one is allowed to profit from charging a rake or fee to play the games. Charity tournaments run from time to time, although these need individual licenses for each event. Another choice for players is free to enter bar leagues which are enjoyed by those who are primarily looking for the social element of the game.
How Online Poker Stands in Washington State
Washington State was the first to outlaw playing online poker in 2006, by making a felony to transmit bets via the internet. This was challenged by the Poker Players Alliance in 2010, although the State Supreme Court allowed the law to stand. There were also attempts via a bill in 2013 to downgrade playing online from a Grade C felony, resulting in up to 5 years in jail and $10,000 fine, to the more reasonable Grade C civil infraction which limits penalties to a far more reasonable $50. Unfortunately this died in committee.
Even the majority of offshore sites who serve most of the US stay clear of Washington State, and with such clear laws you would be wise to question the motives of the ones who remain. Many professional online players have moved to continue their jobs, a move which has gained no sympathy from the politician behind the ban, Senator Margarita Prentice who has since famously said "Let them go pump gas!"
Despite no arrests to date, given the potential penalties it is not recommended to play online in Washington State, even if you can find a site.
In Summary – Washington State Poker
Washington State offers a decent selection of poker action for live players with many card-rooms and tribal casinos offering games. Online players have a far less enjoyable time of it and in many cases have been forced to leave the State in order to continue to play.
While there have been favorable indications from the Gambling Commission to regulate online poker in order to protect residents, ultimately the decision lies with the State government who seem unlikely to move at present.
 "Let them go pump gas."
http://sports.espn.go.com/espn/poker/columns/story?columnist=wise_gary&id=5808565
Gambling Commission
http://www.wsgc.wa.gov/activities/internet-gambling.aspx