New Hampshire Legal Poker
A Guide to Poker in the State of New Hampshire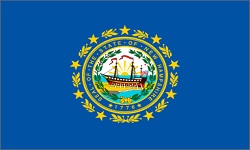 gambling legislationmoving in New Hampshire, as neighboring State governments relax their rules, none of these has been successful.
In this guide to poker in New Hampshire starts off with a quick historical summary of gambling. Next, you can find out how poker stands legally, before finding out what opportunities there are to play live. To finish up, the question of how this State regards online poker is covered.
A Brief Overview of Gambling in New Hampshire
The first legalized gambling in New Hampshire came about in the 1930s when pari-mutuel betting on horse and greyhound racing was permitted. This proved to be very popular and created a large industry which ran for many years until it ended in 2013. The racetracks now only allow players to bet on races elsewhere in the US via Simulcasts.
In 1963 this State led the way by creating the first modern US State lottery. With the exception of some charity gambling, New Hampshire remains very anti-gambling to this day. There are no tribal or State licensed casinos operating here and the only way to play poker or table games is at fund raising nights at the racetracks or other venues.
Is Poker Legal in New Hampshire?
According to New Hampshire's Statutes, Section 647.2(II)(d):
"Gambling " means to risk something of value upon a future contingent event not under one's control or influence, upon an agreement or understanding that something of value will be received in the event of a certain outcome"
While poker is classed as gambling in New Hampshire, it could be possible to separate it from this with the "skill game" argument. The fact that no-one has yet done is possibly a lack of incentive to do so. Gambling arrests are few and far between and stricter penalties are imposed on those organizing the games, rather than the players themselves.
What Live Poker Options do New Hampshire Residents have?
With no law regulating poker there are no legal card rooms operating in New Hampshire. This means the only real option for players is to travel over to Foxwoods and Mohegan Sun in Connecticut, although with Massachusetts and New York may prove to be future options when their new casinos finish construction.
Home games are illegal, with no legal carve-out for social games. Unless games go beyond small stakes and are run as a business, where a rake or fee is charged, there is little or no law enforcement in this area. The lack of social gaming exceptions does restrict free to enter bar leagues, which have proved popular in other places.
While they need to be individually licensed, charity poker nights and tournaments are permitted in New Hampshire. Not surprisingly, due to lack of other options, these events - typically run at race-tracks and bingo halls - have proved to be popular with residents.
Where does Online Poker Stand in New Hampshire?
There is no law directly addressing online poker, or any internet gambling, although it is assumed the current legislation significantly covers this area. As no-one has yet been arrested, let alone charged with playing online poker, this is merely opinion and is yet to be tested in a court of law.
For residents looking to play online, many offshore sites provide games to players across the US. Where these sites are based online poker is completely legal. There are federal restrictions on transactions to and from these sites, although most normally provide players with several deposit options. With thousands of New Hampshire players competing on these each week it is unlikely to be stopped anytime soon.
With little action to progress gambling legislation, it seems unlikely that regulated online poker will get the green light anytime soon.
In Summary – New Hampshire Poker
With limited gambling options available in New Hampshire and no casinos or card rooms, residents have little opportunity to enjoy live poker. The only options really are charity poker nights and small home games which do not arouse suspicion.
Online poker is believed to be covered by the existing Statutes and there is no regulation in place. While there are supporters for gambling and online legislation, there appears to be continued issues preventing bills from being passed, making regulated online poker unlikely in the near future.