Delaware Legal Poker Laws
A Guide to Poker in the State of Delaware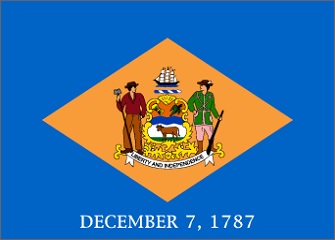 In this guide to poker in Delaware you will first find a brief run-down of the history this State shares with gambling. Then you can find out if poker is actually legal in Delaware or not before discovering the live options for players. To wrap up Delaware's regulated poker market is looked at, along with ways players can find bigger games.
A Brief Overview of Delaware Gambling
Delaware has a strong history of unofficial gambling dating back to the race tracks of the 18th century. Although betting was not legal, wagers continued to be placed on these events until religious and moral beliefs pushed all gambling underground. It was not until 1935 when the first licenses were granted to allow betting on horse races.
This State has seen various boards set up to look at charity gaming and gambling although it was only in the 2000s when casinos and sports-betting were legalized. Sports-betting was soon cut back in 2009 when a Federal act limited this to NFL bets.
Soon afterwards Delaware sought to legalize online games, becoming the first to do so, granting licenses to their racetrack casinos to provide games on the internet. This has been done via a common software platform provided by 888.com and has resulted much needed funds being raised for the State
Is Poker Legal in Delaware
Poker is defined as gambling by Delaware State law and as such can only operate in a regulated environment.
Trying to argue poker as a skill game will not work here as State law 14-32 reads "
"…bets or wagers upon the result of any trial or contest, wherever conducted, of skill, speed or power of endurance of human or beast", therefore the act betting is key to the definition of gambling."
While this State has kept a progressive approach on legal gambling, there are strict laws in place for illegal games, with penalties potentially including jail time. That being said, no player has yet faced charges of illegally playing poker with the law preferring to target the operators
Where to Play Live Poker in Delaware
Residents of Delaware have a limited choice of three legal poker rooms. These can all be found at the racetrack casinos of Delaware Park, Dover Downs and Harrington Raceway. Games run 24/7 and you can find a mix of regular cash game action with a decent selection of small tournaments. Players seeking bigger action can find it a short journey away at Atlantic City in neighboring New Jersey.
Home games are legal in Delaware, thanks to court rulings in the early 20th century where it was decided home games were permitted as long as nobody profited from charging a rake or entry fees. This means while there are no laws making exceptions for social games, you safely enjoy your home games. In addition to this many free to enter bar leagues and charity tournaments operate.
Delaware's Options for Online Poker
Delaware was the first State to host regulated online poker games. These went live in 2013, although despite initial success the enthusiasm quickly died off. While online casino games remained strong in the State, the poker games suffered through lack of traffic – there simply were not enough players initially interested.
As Nevada and New Jersey launched their regulated markets Delaware began negotiations for shared player pools. A deal was struck with Nevada in 2014 which helped boost the traffic in both states. There are hopes that as regulation continues other States will join this interstate compact, and even the possibility of including international partners has been discussed.
Players looking for bigger games can find them on the offshore sites which continue to serve US residents. While these are licensed and legitimate in their own countries they are not recognized as such by the US government. The companies behind these believe they can serve the US because of international free trade agreements, and apart from attempting to block financial transactions there has been little done to prevent players competing on the sites.
Given that Delaware does offer a clearly legal solution and there will be little or no help from the government should you encounter issues with the offshore sites, where you choose to play depends on your personal degree of risk tolerance.
In Summary – Delaware Poker
Delaware continues to be a pioneer in gambling legislation, with legal and regulated poker sites operating. While the market is in its infancy it is hoped this will grow, benefiting all the parties involved in running and taxing these games.
With the recent compact agreed with Nevada there is a strong belief that online poker will only get bigger and better.